Cambridge self defence offer after sex attacks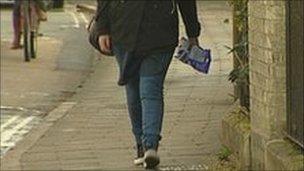 Self defence classes are being put on for students in Cambridge after a series of sex attacks in the city.
Police said they were linking six attacks over the past three months. The latest was in Shelley Row last week.
The police have warned women in the city not to walk alone at night and to take taxis after a night out.
Sarah Peters-Harrison, from Cambridge Student's Union, urged people to take precautions and said they had set up women's self defence sessions.
She said: "Definitely get a taxi and if you do not have the money, the college porter's lodge can reimburse the cabbie.
"Go home with friends or stay at someone else's college, whatever you need to do.
"Self defence courses are being staged but at the same time take precautions and stay safe."
Cambridgeshire Police said they thought the same man was responsible for "sexually touching" women as they walked in the city.
The first was recorded in the early hours of 11 November in Adams Road.
The most recent incident happened early on Wednesday in Shelly Row when a woman was grabbed. The attacker ran off after she screamed.
Related Internet Links
The BBC is not responsible for the content of external sites.