Cambridgeshire musicians meet industry professionals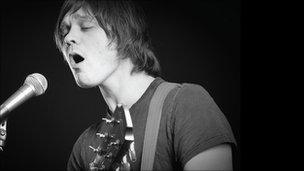 Musicians from Cambridgeshire have been honing their skills at a BBC Introducing masterclass in London.
Seminars and workshops at Maida Vale and Abbey Road studios were run by music industry professionals and performers.
Tom Copson was one of five local, unsigned acts invited to attend.
He said: "Being part of the masterclass has been great. It's really raised my profile and I hope to use it as a springboard."
The annual event is arranged by BBC Introducing, BBC local radio's flagship shows for up-and-coming musicians.
BBC Radio Cambridgeshire's Introducing show is presented by Kerry Devine, who was asked to nominate bands that had featured on her show.
The five acts she felt could benefit most from the February 2011 masterclasses and practical sessions were The Whiskey Jaxx, Silent House Party, The Shutters, Violet Bones and Tom Copson.
Industry names including Tinchy Stryder, Mark Ronson, Steve Lamacq and the Kaiser Chiefs were all present on the day, offering advice and giving unsigned performers the opportunity to network with the experts.
St Ives band, Violet Bones, attended a session run by Lamacq and the Kaisers.
They said: "It was pretty good, and quite reassuring as a lot of things they talked about were the things that we're going though at the moment.
"I gave a them a couple of our CDs to listen to, as well. High five to networking!"
Kerry Devine, who accompanied her proteges to London, described the day as "a real mind-bender".
She added: "Walking around the Maida Vale studios and standing in Abbey Road, I just kept thinking about all the amazing icons and musicians that must have played there.
"I was even excited when I went to the loo, asking myself all the big questions like, 'I wonder if Florence has been in here too'."
Singer-songwriter Tom Copson took the opportunity to hand his CD to BBC 6 Music's Tom Robinson, who promised that he would listen to everything he had been given, but gave bands the following advice:
"Send sound files. CDs are such a pain in the bum to tear off the packaging and cue them up. Clicking on a link in an e-mail is so much easier."
BBC Introducing Cambridgeshire, featuring the best of live, local music can be heard every Friday from 1900 GMT to 2000 GMT on BBC Radio Cambridgeshire.
Related Internet Links
The BBC is not responsible for the content of external sites.