Community Payback offenders help abandoned animals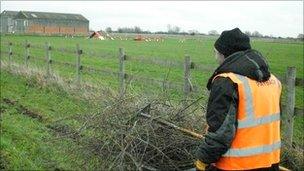 A Cambridgeshire animal charity is receiving help from four offenders.
They are serving their Community Payback sentences by walking dogs, cleaning kennels and maintaining Block Fen Animal Centre's grounds.
"If they couldn't help us out then we'd have to source somebody else, which would cost us money," said the RSPCA shelter's deputy manager Kirstyn Gaunt.
The three men and one woman are serving community sentences for crimes including theft and drink-driving.
Mrs Gaunt said the grounds were being well maintained, which allowed the charity to spend more money on the abandoned animals.
"If more people are exercising the dogs and interacting with them, they are spending less time in their kennels," she continued.
Community Payback replaced community sentences in England and Wales in 2003.
Courts now have the power to sentence offenders of certain crimes to between 40 and 300 hours of unpaid work.
Local groups and charities can nominate projects in need of the free labour.
The offenders, in their distinctive bright orange safety jackets, work at Block Fen fortnightly in the winter and weekly during the summer.
"They really do put their hearts and souls into it. We treat them like any other volunteer," said Mrs Gaunt.
She explained that some continued to volunteer after they had completed their sentences.
Fenland Community Payback manager Alan Moore denied such work was an easy option for the offenders.
"It is a punishment," he said. "The offenders on individual placements all work full time and it's making sure they give one day a week of their free time to charity."
Related Internet Links
The BBC is not responsible for the content of external sites.