Cambridgeshire residents' concerns over potholes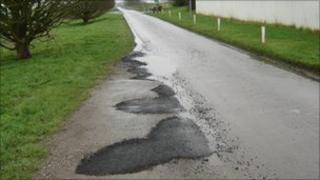 Residents of a Cambridgeshire street say temporary pothole repairs by Cambridgeshire County Council are not good enough.
"They've filled them on top of water and mud," said Sylvia Ives. "So as a car goes by on the edge, bits fly out."
She lives on Mill Road, a single track route used as a cut-through between the villages of Fowlmere and Melbourn.
The authority said any potholes seen as a road hazard would be given a more extensive repair days later.
BBC research revealed the council paid out more than £166,000 in pothole damage compensation last year.
This is more than double the amount paid out to road users in the previous financial year, 2009 to 2010.
Mrs Ives said she has had to replace a tyre and has damaged the car's traction as a result of the potholes.
"A lot of cars come here haring along and they don't know the potholes are there," she said.
"They use it as a through road and it's a case of hit the pothole or hit me."
She said she had lived in Mill Road for 26 years and said it had never been resurfaced in this time.
Mark Kemp, service director for highways and access at the county council, said: "We have done some work strengthening the verges with planing, and filled in potholes on Mill Road. We are monitoring the situation."
In Cambridgeshire 13 crews are deployed to swiftly patch up potholes.
The Conservative-led council says if the potholes are seen to be a road hazard they are then given a more extensive repair between 14 and 28 days later.
Pothole compensation
Freezing conditions over two winters have made potholes a particular problem across the UK.
The county council paid Cambridgeshire's road users £166,289 in compensation for pothole damage in 2010 to 2011. In 2008 to 2009 the figure was almost £19,000.
Conservative-led Peterborough City Council's compensation payout was at a high in 2008 to 2009, but was considerably less in the last financial year.
These figures are revealed in BBC research for a national project called The Road Ahead.
Cambridgeshire has a large network of rural roads to maintain and they are extensively used by heavy industrial and agricultural vehicles.
The council released an extra £3m to repair potholes in March 2010.
In 2011 it introduced a new system of reporting all highways problems, including potholes, on its website, which allows people to track their report.
In the next financial year Cambridgeshire County Council will be spending £10.5m on medium and long-term road maintenance.
On 25 January 2011, Peterborough City Council introduced extra two-man crew for a month to work solely on repairing potholes. This is in addition to the two permanent road maintenance crews.
The council's policy is to fill them as soon as possible, to prevent more extensive and expensive repairs later.
Andy Tatt, the city council's network management group manager, said: "We filled 2,658 potholes in the first four weeks. In many cases we have been able to deal with potholes on the same day they were reported.
"The success is reinforced by the fact that during the campaign period we haven't received any insurance claims connected to potholes."
Last week, the government said it would be putting aside £100m for councils to bid for if they felt they had been badly hit by potholes.
Mark Kemp confirmed Cambridgeshire County Council would ask for a share of that money.
You can find more information about the state of the roads across the United Kingdom on the BBC's The Road Ahead website.