E-fit of Cambridge sex attacker released by detectives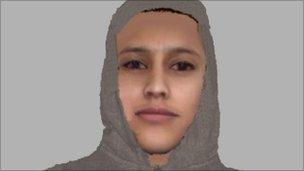 An e-fit has been released of a man sought by police in connection with a series of sex attacks in Cambridge.
Detectives said they were linking six attacks over the past three months. The latest was in Shelly Row on 7 February.
Women in the city have been warned not to walk alone at night and to take taxis after a night out.
Now the e-fit has been released in the hope it will lead to the identification of the offender, who is described as white with short dark hair and stubble.
Self-defence classes have been organised for students in the city.
Det Sgt Phil Priestley, of Cambridgeshire Police, said: "We have received a good response so far from the public and hopefully this image will encourage others to come forward with information.
"I would urge anyone who recognises the image to contact police. No piece of information is too trivial and may help us bring this offender to justice."
Police will continue the increased patrols in the areas where the offences were committed.
The latest incident happened in Shelly Row at 0030 GMT on Monday 7 February, when a 27-year-old woman was grabbed.
The offender ran off when she screamed.
The other five incidents occurred between 11 November and 25 December in the Newnham area of the city.
Related Internet Links
The BBC is not responsible for the content of external sites.