Cambridgeshire farmer launches a posh crisp brand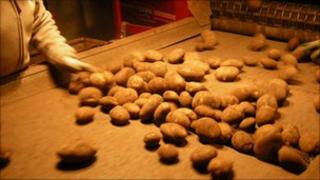 Cambridgeshire farmers are always looking for new ways of diversifying their income.
For Ross Taylor, posh crisps made from Maris Piper potatoes from his family farm look like the way ahead.
"Our dream is to sell enough crisps to help other local farms like ourselves that have been struggling to sell British potatoes," explained Mr Taylor.
So, together with business partner Rod Garnham, he launched Corkers Crisps, last December.
Willow Farm, near Ely, has been in the Taylor family since the 1800s. They have 400 acres, 150 of which are dedicated to potatoes.
For 20 years the Fenland farm has been producing Maris Pipers for chip shops.
"This area is famous for the quality of chip produced on this particular type of land," said Mr Taylor.
However, most of their potatoes are shipped to Ireland and Scotland.
So the friends, who grew up together, decided to create a new and local product from the potatoes.
The crisps, which are made by a local company, are already being sold in Harvey Nichols stores, as well as Budgens' Cambridgeshire shops, delis and gastro pubs.
Cambridgeshire is a major food producing area, with the biggest county council farms estate in England and Wales.
It also has some very large farms and horticultural companies which supply major supermarket chains.
In the past decade, many of the county's smaller farmers have been encouraged to look at new ways of boosting their income.
One has turned part of an orchard into a caravan and camping site, another has created a children's play park using farm buildings and many of them are selling direct to the consumer through farm shops and farmers' markets.
Brian Finnerty, from Cambridgeshire National Farmers Union, said: "There's a growing interest in how to add value to the business.
"Fuel and fertiliser costs are all going up, so farmers are working with their neighbours, or turning their apples into cider, or producing their own extra virgin rapeseed oil.
"And consumers are more interested in where their food comes from."