New leads in Peterborough jewellery armed robbery probe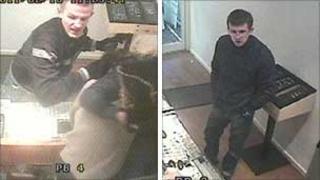 Police in Peterborough have said they are reviewing new information after a failed armed robbery was featured on BBC Crimewatch.
Two men, one armed with a handgun, burst into Harvey Daly jewellers in Long Causeway in Peterborough on 18 February.
A passerby tried to stop one of the thieves from getting away.
Monday night's programme showed CCTV footage of the attempted raid, prompting 11 calls to police.
The robbers entered the shop and threatened a member of staff but ran off after being challenged.
It is believed one of the men grabbed some gold necklaces.
UK-wide search
As the men left the shop, a member of the public tried to stop one of them and had a gun pointed at him.
Det Sgt Andy Tolley added: "We believe the men responsible are not local to the Peterborough area so we are appealing to members of the public across the country for information.
"We are hoping that someone may recognise the men in the CCTV images and come forward.
"We are continuing to work with police forces across the country and overseas to trace the offenders."
One of the men is described as white, 6ft (1.8m), in his 20s, with a shaved head.
He was wearing blue jeans and a dark jacket with a grey stripe across the chest.
The second was described as white, aged 20 to 25, wearing a dark blue jacket, blue jeans with the bottoms turned up and black shoes. He had short, dark hair.
Anyone with any information is asked to contact police.