Young Cambridgeshire's got talent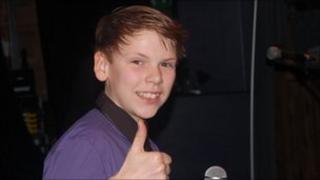 Musicians, magicians and comedians took part in heats for Cambridgeshire's Young Talent 2011 this half-term.
The event was organised by Young Lives, which works with young people and families across the county.
"It's about giving them an opportunity to realise their potential and to build up their skills set," said its fundraiser Kevin Burke.
Each heat had three finalists who will now go forward to the grand final on 4 March 2011.
'Creative theme'
Young Lives was set up in April 2006. It receives funding from a variety of sources including Cambridgeshire County Council, Peterborough City Council and the Big Lottery Fund.
It supports voluntary and community organisations which work with young people, both in hard-to-reach groups and mainstream youth organisations.
Mr Burke said: "We've found that anything that has a creative theme to it, be it cooking, talent shows or fashion shows, really seems to capture the imagination of people across Cambridgeshire.
There were three heats for Cambridgeshire's Young Talent 2011 during the February half-term, held in Soham, Huntingdon and Cambridge.
They are organised in a professional way, with stages, good sound systems and large audiences.
Mr Burke said that they have built up a good network of contacts to help with events like these.
"We're now in a situation where we can go with the network we've got, with professional kit, and people who are very happy to give up their time and help put on a semi-professional show," he continued.
"So we're very grateful for those opportunities and the people who do support us."
Young people aged from 11 upwards took part in the competition, including 12-year-old Nathan Warner who was the compere at the Cambridge heat.
"One of the themes in a lot of the work we do is to actually give them positions of authority," said Mr Burke. "It's great for someone like Nathan to come in, you take him under your wing, and see him blossom as the night goes on."
Young Talent 2011 heat winners
Huntingdonshire - Charlie Lake, Breaking Silence, Fracture
East Cambridgeshire and Fenland - Rachel Foulger, Alex Lee, Molly Day
Cambridge - Ben Udin, B-Boys, Julian Semerene
The final is at Ramsey Youth Centre on 4 March between 1900 and 2100 GMT and is by invitation only.