BBC's ex-Newsround presenter Lizo Mzimba in libel win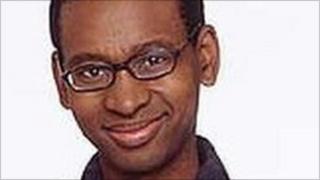 A BBC journalist has accepted libel damages over an untrue claim he behaved in a sexually inappropriate manner when visiting Cambridge University.
Former Newsround presenter Lizo Mzimba had brought proceedings in the High Court against The Independent which ran a story about him in October 2009.
The court was told The Independent had given an undertaking not to repeat the allegations about Mr Mzimba.
The paper is to pay him substantial damages and meet his legal costs.
Mr Mzimba's solicitor, Jonathan Coad, told Mr Justice Tugendhat that the newspaper repeated false allegations which had previously appeared in The Tab, a Cambridge University student publication.
'Significant distress'
These were that Mr Mzimba became visibly intoxicated when visiting the university while on an assignment for the BBC and that he behaved in an unwelcome and sexually inappropriate manner.
"In fact, not one of these allegations was true," said Mr Coad.
He told the judge that the newspaper added a further false statement in saying that Mr Mzimba had declined to comment.
In fact he was given no indication that an urgent reply to an email was required within hours or that publication was imminent, the court was told.
"The Independent's untrue assertions that Mr Mzimba had behaved in the way described, together with the equally false allegation that at the time he was on a BBC engagement funded by the public through the BBC licence fee, have caused serious damage to his reputation, as well as significant distress and embarrassment," said Mr Coad.
Speaking after the hearing, Mr Mzimba said: "I'm very pleased that this matter has finally been resolved."
In a statement, his solicitors Lewis Silkin added that their client had received apologies, his legal costs and substantial damages from the Daily Mail (online edition) and the Evening Standard (print and online editions) over similar allegations.