Bishop of Huntingdon's big Lent Bible challenge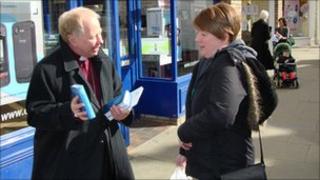 Reading the Bible regularly is the least we expect from our clerics, but the Bishop of Huntingdon has set himself a whole new challenge.
It is to read the Bible from cover to cover during the 40 days of Lent.
"I love the Bible, but I realised that I only read it bit by bit," he said. "I'd read an airport novel from beginning to end so why not the Bible?"
Dr David Thomson expects to read for at least an hour a day, and is challenging others to do the same.
The Reverend David Maher from the Church of the Good Shepherd in Cambridge has answered the call, along with at least 12 of his parishioners.
"We always think about what we should give up for Lent," he said. "But I'm a bit more like, let's do something positive.
"Let's take the challenge on, and believe me reading the Bible in 40 days is a real challenge."
'Beautifully written'
The bishop launched Round the Bible in 40 Days on Ash Wednesday with a service in Ely Cathedral.
He then took to the streets of Ely to offer free Bibles to people prepared to join in him reading the book throughout Lent.
Bishop Thomson admits that there are parts of the Old Testament which he expects to struggle with.
"You're into all those regulations about Israelite worship, and what you must do," he said. "And which animals you can and can't eat.
"I understand weasels get a very bad time of it from God."
The challenge is timed to mark the 400th anniversary of the King James Bible, so Mr Maher has decided to use that version for his home reading.
"Reading it in the King James is a bit of a challenge," he said. "But it has also been helpful, because you do get familiar with the story in modern translations.
"You think you know what the end of the story is and so you might skip ahead a little bit, but when you read the language of the King James, which is so beautifully written, it does help you to reconnect and refocus on the story again."
For more information on Round the Bible in 40 Days, and to find out how Bishop Thomson is doing, go the the website.