Modern artists takes over a disused Cambridge warehouse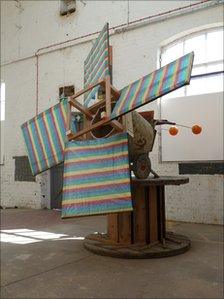 A disused warehouse at Cambridge railway station has been transformed into a centre for contemporary art.
Aid & Abet is an artist-led project funded in its first year by a £30,000 Arts Council England grant.
The first exhibition, Small-Scale Survival, challenges artists to create installations that complement the architecture of the Victorian building.
The centre forms part of the cultural quarter of the CB1 development surrounding the railway station.
The £820m CB1 scheme takes its name from the central Cambridge postcode area and includes improvements to transport links to and from the station, new homes, offices, a multi-storey car park, a cultural centre and public open spaces.
Aid & Abet is the first contemporary art space to open in the area, utilising a building that had been derelict for five years.
'Resourceful and responsive'
Co-founder David Kefford said the scale of the warehouse would inspire the artists to create monumental installations to fill the space.
He described the first exhibition as "experimental, resourceful and responsive art".
The artists' brief is to reflect the austere economic climate through the use of limited funds and everyday materials including bricks and wooden pallets.
The Aid & Abet building, which is open on Thursdays, Fridays and Saturdays, also includes a traditional art gallery, social space and studio.
"It's very much a public place," Mr Kefford said. "As well as the exhibition we've got talks, a symposium, film screenings and a great cafe.
"We want people to come along, feel comfortable and able to interact with contemporary art."
Related Internet Links
The BBC is not responsible for the content of external sites.