Mosque expansion plans for Peterborough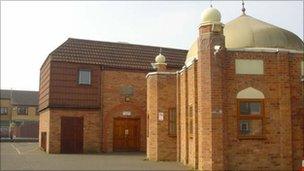 A mosque and community centre could double in size if expansion plans are approved by Peterborough City Council.
The £2m project for the mosque in Burton Street includes a multi-purpose hall, library, computer rooms and new car parking spaces.
Mr Raza Hussain Rahim, president of the Khoja Shia Ithna Asheri community, said it was a chance to give something back to the people of Peterborough.
"This will be a community building for everyone in the city to use," he said.
The Burton Street mosque was built in 1978, shortly after the Shia Khoja Muslims arrived in Peterborough from parts of east Africa.
"We were made so welcome when we arrived in this city," Mr Rahim said.
"We built the mosque, and now we have raised funds from within our own community and sister organisations throughout the UK and in Africa, for this new building, which will be more than just a mosque.
"It's a community centre and we are part of that community. Our members here contribute to a number of professions including medicine, dentistry, law and accountancy."
If the application is approved, Mr Rahim said he hoped that work to build the extension would begin within six months.
Related Internet Links
The BBC is not responsible for the content of external sites.