Royal wedding street parties planned in Cambridgeshire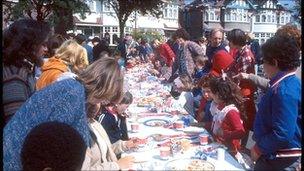 Dozens of applications to hold royal wedding street parties have been made to councils in Cambridgeshire.
Cambridgeshire County Council approved 37 applications for road closures to accommodate parties and five were approved by Peterborough City Council.
Parties planned in through-roads or on public transport routes required council approval for road closures.
Cambridgeshire council has advised people holding parties to consult with neighbours who may be affected.
BBC websites will publish street party galleries and would like your photos.
If you would like your own street party to feature in a BBC gallery covering Cambridgeshire and Peterborough, email photographs to cambridgeshire@bbc.co.uk.
Related Internet Links
The BBC is not responsible for the content of external sites.