Village youth worker warns cutbacks may increase crime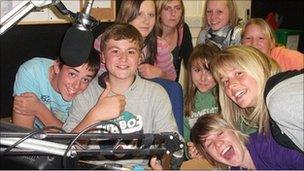 A youth worker is warning that cuts to the service funded by five Cambridgeshire parish councils could lead to an increase in crime.
Currently, Sutton, Mepal, Little Downham, Wentworth and Witcham parish councils jointly fund youth and community services.
Mick Oliver is the youth and community development manager for the villages.
He said before the service existed "up to 60 youngsters were marauding through the streets of Sutton".
Mr Oliver continued by saying that villages which currently lack youth services regularly experienced vandalism and anti-social behaviour.
The chairman of Sutton Parish Council David Deacon said a decision on continued funding of youth services would be taken by the end of April.
The five parishes fund a team of mostly part-time youth workers, backed by more than 30 volunteers, who work in these villages and source funds for projects.
The projects are varied and follow the children's interests.
In 2010 a team of youngsters set up a radio station, magazine and website, while boys involved in a boxing group were rewarded for their commitment by a trip to a New York gym.
But Mr Oliver said the community work was not only for the villages' young people.
"We engage with the hard-to-reach groups," he explained. "Whether it be with the elderly, whether it be with infants, the travellers, or just generally the young people.
"Our aim is to work with them to provide social and informal education."
In Sutton there is a bowls green enjoyed by older residents and a newly opened community cafe, as well as community rooms used by brownies, guides and scouts as well as various other youth groups.
"On average 300 to 400 young people are moving through the community clubs and projects," Mr Oliver said.
However, funding for the projects comes from a variety of sources including Cambridgeshire County Council, East Cambridgeshire District Council and charities.
As the councils are all adjusting their budgets because of government cuts, Sutton Parish Council held a closed meeting on 5 April to discuss the future of these community projects.
A decision will be announced at the end of April.
Related Internet Links
The BBC is not responsible for the content of external sites.