Scheme to protect gate at Cambridge's Trinity College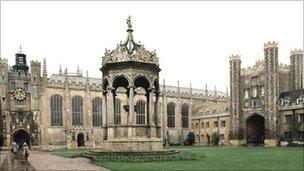 A scheme to help protect a 16th Century wooden gate at the entrance to Trinity College, Cambridge, has been put forward.
The college wants to reinforce the two oak doors which make up the Great Gate which have become distorted.
Trinity College has applied to Cambridge City Council for permission to reinforce the gate by inserting stainless steel plates.
The college was founded by Henry VIII. The Great Gate was built in 1530.
Past students include poet John Dryden, mathematician Isaac Newton, poet Alfred, Lord Tennyson, composer Ralph Vaughan Williams and writer AA Milne, who created Winnie the Pooh.
Senior college staff were unavailable for comment but a planning application to the council says experts want to add "structural support ... by inserting concealed stainless steel flitch plates to prevent further distortion".
Related Internet Links
The BBC is not responsible for the content of external sites.