Chernobyl: 25 years of caring for children in Belarus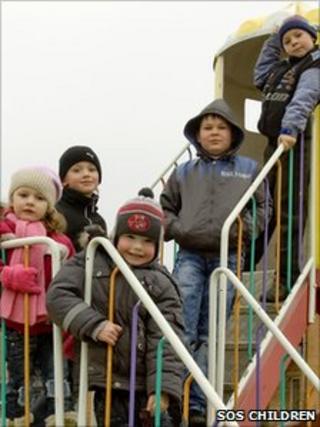 Doctors treating cancer patients in Belarus, the country worst hit by fallout from the Chernobyl disaster, have praised a British charity.
Cambridge-based SOS Children runs a social centre for children receiving therapy at a Belarus oncology hospital.
Purpose-built near the country's capital Minsk, it enables parents to stay with children undergoing lengthy treatment.
The charity said there was no proof that the fallout caused the cancers, but patients believed it was to blame.
It has been 25 years since an electrical test sparked an explosion in number four reactor at the nuclear power plant in Chernobyl.
On 26 April 1986 radioactive debris released from the plant polluted 80,000 square miles of land across Europe.
It is estimated that 70% of that fell on neighbouring Belarus, contaminating one fifth of its agricultural land.
SOS Children opened its so-called "village" in Belarus in response to the disaster.
Tower blocks
The charity provides "a family for life" for orphaned and abandoned children in 508 villages, in 124 countries around the world.
Many of those at the SOS Borovjlany village near Minsk are the children of former agricultural workers forced from their farms into tower blocks in the city.
"A lot of their parents are alcoholics and simply cannot care for their families," said Elizabeth Tofaris, an SOS Children worker who has just returned from Belarus.
What is unique about this village is the SOS Mother and Child Social Centre set up on the site.
Each year 250 children and their families stay at the centre, free of charge, while undergoing lengthy treatment at the nearby Centre of Child Oncology and Haematology.
Dr Petina, head of day care at the hospital, said: "We would like to see more SOS homes where patients can stay with their families. It is beneficial for them and would enable us to see even more patients."
Lesha is a 23-year-old leukaemia patient who has been staying at the SOS social centre with his mother, since February.
He said: "After my therapy I feel really unwell so it's important I have my mother's emotional and physical support. It would be difficult if I was on my own."
The centre is a lifeline for families from the poorer areas of Belarus, like Lesha's home in Mogilev, one of the worst-affected regions of Belarus.
It is the only facility of its kind in the country, and without it, cancer patients and their families would be forced to live apart for up to a year while being treated at the hospital.
As well as free accommodation, families are offered psychological support, educational support for children who are not able to attend school, financial help and a range of activities for the children.
Lesha said: "It's vital I stay well during my therapy, otherwise it will have to stop.
"Here, I can stay with my mother for free. We can use the facilities and my mother can cook for me in the evenings."
'Conflicting reports'
SOS staff have said that the benefits of the social centre do not end when patients leave.
Lilya Shestakova, who runs the facility, said: "Families are taught how to cook and prepare healthy meals so that when they return home, they can continue to maximise the effects of the treatment."
Mrs Tofaris, from SOS, said it was impossible to know whether the cases of cancer seen at the centre near Minsk were a result of the Chernobyl disaster, but many Belarusians remained convinced that it was to blame.
"People receive conflicting reports and aren't sure what to believe," she said.
"What is clear, though, is that levels of radiation, particularly in rural areas, remain high and there are thousands of people in need of support, both physically and psychologically."