Mr Asbo the swan stays on River Cam with mate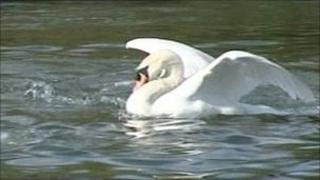 An aggressive swan nicknamed Mr Asbo looks set to remain on the River Cam despite fears for the safety of rowers.
The swan had reportedly attacked river users on a number of occasions.
The Cam Conservators, which manage the river, applied for a licence to have the notorious bird moved. He and his mate have now begun nesting.
Once swans have nested it is illegal to move them and, according to the RSPCA, it can be extremely stressful and sometimes fatal for cygnets.
Mr Asbo began chasing river users in 2010. It is believed he became aggressive after his cygnets died.
Now that he and his mate are expecting another brood, they will remain where they are until the cygnets have been reared and left their parents.
Aggressive behaviour
Mr and Mrs Asbo are likely to stay on the River Cam until the autumn.
The Cam Conservators said that the pair had chosen a quieter area of the river for this year's nest.
With less traffic on the stretch of water to the east of the city they hoped the birds would not feel threatened.
The RSPCA said that it was common for swans to display aggressive behaviour if they perceived their cygnets to be in danger.
The conservators have now been given permission to erect screens around the nesting site to protect the swans from the rowers, and the rowers from the swans.