Man arrested in Cambridge for royal wedding protest plan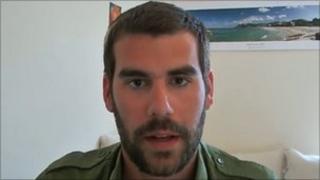 A campaigner has been arrested at a house in Cambridge a day before he planned to protest against the royal wedding in London.
Charlie Veitch was arrested at about 1700 BST on Thursday on suspicion of "conspiracy to cause a public nuisance".
His arrest sparked a freedom of speech demonstration outside Parkside Police Station, Cambridge, where he was held.
Mr Veitch uses a megaphone in protests and runs the Love Police website.
On Friday, the Metropolitan Police confirmed Mr Veitch was now in custody in London.
'Free speech'
Mr Veitch's girlfriend Silkie Carlo, 21, of Cambridge, said she was with her partner when police arrested him.
"I am very concerned that not only has somebody been arrested on an issue of free speech, and arrested for something he might say, he's been held for almost 24 hours," she told the BBC News website.
"It's quite outrageous.
"I know some people worry about anarchists but police know that Charlie uses a megaphone. There's a strong non-violent tradition of anarchism."
Freedom of speech activist Terri Oaks, who lives in Cambridge and attended the demonstration outside Parkside, said he was appalled at such a lack of "respect for the right to protest".
Mr Veitch said he was concerned at anarchists being arrested for offences that had not taken place.
He said on his website that he planned a protest to disrupt the royal wedding.
He said he had "no issue with two young people in love getting married" but was against the huge cost of celebrations.
A spokesman for the Metropolitan Police said Mr Veitch was still in custody after being arrested on suspicion of "conspiracy to cause a public nuisance and breach of the peace".
He said he could not comment on the concerns raised by Mr Veitch's girlfriend.
Cambridgeshire Police had said it could not confirm or deny Mr Veitch had been arrested.