FluPhone app 'helps track spread of infectious diseases'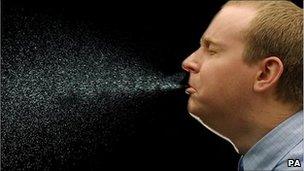 A mobile phone application could help monitor the way infectious diseases such as flu are spread.
The FluPhone app was developed by researchers at the University of Cambridge Computer Laboratory.
Volunteers' phones fitted with the app "talk" to each other, recording how many people each "infected subject" meets during an imaginary epidemic.
The university is one of seven institutions working on the study to reduce the impact of epidemics.
The FluPhone app uses Bluetooth technology to anonymously record interaction between volunteers involved in the study.
When mobile phones come into close proximity, that fact is recorded and data is sent automatically to the research team.
Professor Jon Crowcroft and Dr Eiko Yoneki, co-principal investigators of the study, said they believed the collected data could be used to simulate social interaction during a real epidemic or pandemic.
A three-month FluPhone pilot study, using a basic version of the app, was conducted in Cambridge in 2010.
Dr Yoneki said: "The data was a valuable insight into how human communities are formed, how much time people spend together, and how frequently they meet.
"Such data show complex network-like structures, which is very useful for understanding the spread of disease."
Prof Crowcroft explained epidemiologists traditionally monitor how a disease spreads by asking patients to keep diaries of their movements and social contacts.
"That's very heavy-going and people often forget to do it, or forget who they've met," he said.
The FluPhone app was, he explained, a more reliable way to record contact between "infectious subjects".
"Provided we have people's permission, we can upload the data, and medical researchers can see who met whom within the set of volunteers, without there being any missing encounters.
"That's very important because meeting a lot of people may be the principal way diseases are spread.
"Armed with that sort of information, medics could then direct advice towards those people and perhaps slow down the spread of an epidemic.
"As long as we get a reasonable number of people taking part, meeting other people taking part, then we will get that understanding," he said.
An upgraded version of the FluPhone app has now been released that can transmit "fake pathogens" to volunteers' phones.
Prof Crowcroft said the team was now able to run "what-if experiments" on the volunteers by randomly choosing which phones should be "infected".
"The data collected could inform the way medical advice is given by the government during a real epidemic," he said.
"We probably can't stop an epidemic just through advice, but if we can slow it down, medical intervention could be directed more effectively, for example at treating serious cases, or developing vaccines."
Related Internet Links
The BBC is not responsible for the content of external sites.