Terry Waite helps Cambridge homeless charity Emmaus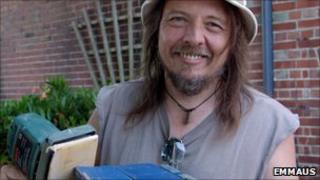 A homeless charity, supported by former Beirut hostage Terry Waite, is celebrating its 20th anniversary at an event at the House of Lords.
Emmaus opened its first UK "community" in Landbeach, near Cambridge, in 1991, and now runs 19 similar establishments.
On Thursday, Emmaus president Terry Waite will discuss the charity's solutions to homelessness with MPs.
Emmaus residents agree to relinquish state benefits in return for housing, work and support.
Emmaus Cambridge Community is home to 30 "companions" - the name given to the homeless people who live and work at its establishments.
The site, which began with two caravans and a temporary cabin, now consists of residential buildings, workshops, a retail unit and a cafe.
"Companions" commit to volunteering 37.5 hours a week, sign off unemployment benefits such as Job Seeker's Allowance or incapacity benefits, and agree to live by Emmaus principles which include "helping others to live, grow and find dignity through sharing, work and self-respect".
They are given training in recycling and renovating donated furniture and electrical goods which are then sold to the public, at an on-site shop.
'Different perspective'
Mr Waite was first introduced to the charity by its former president, Robert Runcie.
"He thought I might be interested in what Emmaus was doing in Cambridge because it offered support to people who'd had a very tough time in life.
"He said that I had 'seen life at the bottom', so to speak.
"As a hostage I had been denied my rights and kicked around, and he thought I would understand the way homeless people felt," Mr Waite said.
Paul Matthews, a long-term "companion" at Cambridge said Emmaus was "the nearest thing I've got to a home".
He said: "It gave me an opportunity to get my life back. It supports you and helps break the cycle of homelessness and the related drink, drugs and mental health issues.
"When you're on the streets you're pretty much invisible. People don't want to see you.
"This place gives people a different perspective on what homeless people can achieve and how much potential is really there."
The charity said that its plans to open a further 15 communities across the UK was testament to the success of its approach to the issues surrounding homelessness.