Crowing cockerel sent on 'holiday' to pub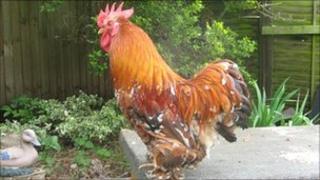 A noisy pet cockerel has been sent on a holiday while pupils at a neighbouring school sit their examinations.
Barry the cockerel lives at a Cambridge care home, but staff at the school expressed concern at his distracting afternoon crowing sessions.
Allan Challis, who looks after Barry, decided to send him on a holiday to his friend's pub until the exam season is over.
"He's already sent a postcard and says he's loving it there," said Mr Challis.
Barry, a Peking cockerel, was hatched in an incubator at the care home last year.
Three 'wives'
"My mum is a resident at St George's Care Home and they were all keen to have some chicks around the place," Mr Challis explained.
"They didn't want a cockerel, but when Barry hatched, they decided to keep him. I did say that the crowing would be a problem, but they said they would deal with that when it happened.
"They called him Barry because when he was born he was pure white. He's all the colours of the rainbow now."
Barry has three 'wives' who share the coop with him.
His holiday accommodation has been provided by Mr Challis's friend, Dave Saby, a keen chicken-keeper and the landlord of The Hoops public house in Barton, Cambridgeshire.
Mr Saby said: "We're pleased to have Barry staying with us.
"The customers here are amused by it all, and Barry is happy. He asked me to post a card to the home for him to let them all know he arrived safely."
Mr Challis expressed concern that Barry may not actually want to leave his temporary home.
"He only had his three wives and a few other chicks running around at the care home," he said.
"Now he's got 250 pullets for company I don't think he's going to want to come back."