Artist unveils the 'Face of Peterborough'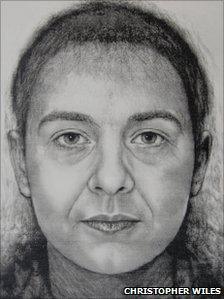 An artist has merged more than 1,400 photographs of faces to create what he says is a "true representation" of all of the people living in Peterborough.
Christopher Wiles used software called Psychomorph to merge the images and create an "average" face.
He then hand-drew hundreds of thousands of tiny spirals to form a large-scale, monochrome photographic likeness.
The 8ft (2.5m) x 4ft (1.2m) Face of Peterborough was unveiled at the city's John Clare Theatre on Friday.
Mr Wiles began working on the Arts Council England-funded community project in early-2010.
He asked people living in Peterborough to contribute to it by allowing him to include photographs of their faces in the merged image.
The Psychomorph software, which is usually used for facial recognition research, was developed by the Face Research Lab based at the University of Aberdeen.
Mr Wiles said: "It's been a real privilege to work on the Face of Peterborough project and be part of something that the people of Peterborough seem to have taken to their heart."
The pen-and-ink portrait will be displayed in Peterborough Central Library over the summer, before being housed in the city's museum and art gallery, which is currently being redeveloped.
Related Internet Links
The BBC is not responsible for the content of external sites.