Shoebox Bible on show at Peterborough Cathedral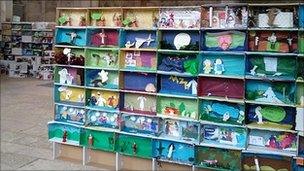 A special exhibition has opened at Peterborough Cathedral to mark the 400th anniversary of the King James Bible.
Hundreds of children from across the Peterborough diocese have used shoeboxes to depict Bible stories.
"It's an opportunity for us to familiarise ourselves with some of the fantastic stories which helped shape our culture," said Jonathan Baker.
The Peterborough Cathedral canon said he was delighted with the display.
Schools, parishes and individuals were asked to take part.
As well as being a creative way of marking the 400th anniversary of the King James Bible, the aim of the project was to reconnect people with Bible stories with which previous generations were familiar.
"If you talked about a Good Samaritan, or a prodigal son, or the wisdom of Solomon, or David and Goliath, they would immediately know what stories lay behind those phrases," Canon Baker continued.
"Nowadays you can't take that for granted."
While most of the shoeboxes were created by children, adults took part as well.
The Dean of Peterborough Cathedral, Charles Taylor, was inspired by Psalms 60:8 and 108:9 which both include the line "Out of Edom have I cast out my shoe".
"Shoes are very important things, because in the Middle Eastern and Far Eastern cultures they are the sign of either respect or of disgust," he said.
"You take your shoes off when you go into a holy place, or you throw your shoes at someone if you're not pleased.
"So the shoebox is empty - and that was a very easy one to do."
The display is ordered chronologically, starting with the Book of Genesis and ending with Revelations.
Related Internet Links
The BBC is not responsible for the content of external sites.