Arts Theatre plans £12m expansion in Cambridge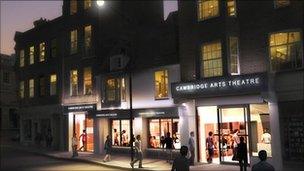 Plans for a £12m theatre expansion project have been unveiled in Cambridge.
The Arts Theatre was built in 1936 on what it said was the only available city centre site but it now plans to expand into two adjoining buildings.
The refurbished theatre will include a new foyer and a fourth-floor 200-seat studio theatre for small-scale events.
Fundraising for the Act Two project has started and it is hoped that work can commence in summer 2012.
Planning for the theatre's expansion began in 2007 when the lease became available on a property adjacent to the Peas Hill entrance.
The theatre was able to secure the lease on a second unit from King's College in 2009.
The Arts Theatre attracts more than 150,000 visitors every year and it is hoped that the expansion plans will increase the numbers of theatre-goers and create further revenue through a new bar and catering area in the foyer.
Al Morley from the Cambridge Arts Theatre said that a new studio would enable the theatre to produce its own works and take them on to the national touring circuit.
The three-stage expansion project has been designed by Mark Foley from architectural firm Burrell Foley Fischer LLP.
The company has previously worked on redesign projects for theatres including the Crucible in Sheffield and the Almeida in Islington.
Related Internet Links
The BBC is not responsible for the content of external sites.