Prehistoric wetland to be recreated in Cambridgeshire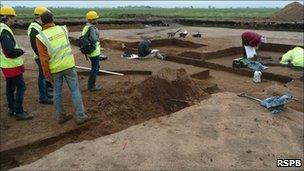 Archaeologists have begun excavating a prehistoric lake with a view to recreating an ancient wetland.
Willingham Mere in Cambridgeshire is the site of a 10-day scientific study by the RSPB, Cambridge Archaeological Unit, and Hanson Aggregates.
RSPB archaeologist, Robin Standring, said: "We think we've got lake deposits here that are around 3,000 years old."
They are hoping to reconstruct a similar "ancient environment" at a nearby wetland reserve.
The Willingham Mere site has been used for farming but existed as a lake on old maps of the county.
"It started being drained extensively about 500 years ago, but the lake's signature shows up on aerial photographs," Mr Standring said.
"What's exciting is that it should contain preserved plant, animal and bird remains from species that were living on this mere.
"Because the sediment has remained water-logged and oxygen hasn't got in, we can get excellent preservation of wood and other organic matter that will let us reconstruct what this past environment was like."
The Cambridge Archaeological Unit has excavated quarries close to the Willingham site and has discovered the bones of the giant Dalmatian pelican, which has long been extinct in the UK, as well as bittern, marsh harrier and beaver remains.
Mr Standring hopes to discover similar remains at the mere.
"We're then hoping to use the information about what used to be here in our efforts to create a new wetland at the nearby Needingworth quarry," he said.
The Hanson-RSPB wetland project at Needingworth quarry involves the removal of 28 million tonnes of sand and gravel over a 30-year period.
The project has been running for 10 years and the RSPB is gradually returning the land to wetland habitat.
RSPB warden, Chris Hudson, said: "It's amazing that we could find preserved evidence of what the [Willingham Mere] wetland looked like. It really gives extra inspiration to restore this rich nature to the area.
"That we know reedbed birds like bittern made their home here in the past provides extra credence to the habitat restoration work we are doing here."
The Willingham Mere excavation has been funded by a University of Cambridge Knowledge Transfer grant which enables the archaeologists to work with the local community, use volunteers from nearby villages, set up a public exhibition on the site and carry out daily tours as the excavation progresses.
Tours of the Willingham site take place at 1100 BST and 1400 BST daily until 10 June.
Related Internet Links
The BBC is not responsible for the content of external sites.