Cambridge serial sex attacker: CCTV footage released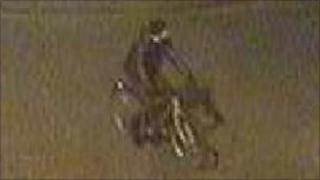 CCTV images have been released of a man police want to question over a string of sex attacks in Cambridge.
Following the latest incident in Boltolph Lane on 28 May when a woman was grabbed by a man on a bike, new footage has been released.
Officers believe eight attacks since 2010 were committed by the same man.
Cambridgeshire Police has described him as white, aged 20 to 30, 5ft 10in to 6ft (1.78m to 1.83m), and of medium build.
He has short dark hair, stubble and wears a black jacket over a grey hooded jumper, which may have a number three on the back.