Students offered grants to study in Peterborough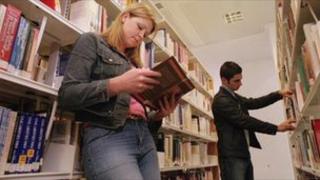 A college has started a £100,000 charitable trust to help its students with the cost of courses.
The Peterborough Educational Trust was started with money from Peterborough Regional College's own funds.
Scholarships worth up to £5,000 will be available to students meeting proven criteria including academic excellence, disability, or financial hardship.
College principal, Angela Joyce, said the trust was "a sustainable way of providing support for students".
She added that the scholarships would help students who previously relied on the Education Maintenance Allowance (EMA) scheme which closed to new applicants on 1 January.
"Around 60% of our students are in receipt of EMA so of course that was a concern when it was scrapped," said Mrs Joyce.
Strict criteria
The government will introduce a new £180m bursary scheme in September, but the principal said she did not believe the scheme would be "on the same scale as EMA".
"The idea for the trust came in recognition of the government's reduction in financial assistance for students, and we needed to find other means of financial support," she said.
Students will be able to apply for the scholarships from 1 July and will need to meet strict criteria in one of four categories.
"We will ask that all students abide by our terms and conditions which will ensure they spend their scholarship money wisely," Mrs Joyce said.
"This will also enable us to track their education career, and their career after college, so we can see how well they're doing having been a beneficiary of the trust fund."