Big Issue sellers will use iPhones to report the news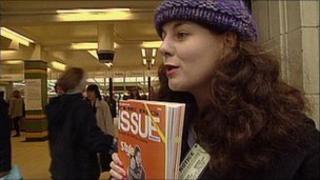 Homeless people selling The Big Issue magazine are to be given iPhones to help them to become "reporters and news gatherers".
Cambridge-based co-founder of the magazine, John Bird, said he wanted to give homeless people the skills that would take them off the streets.
He plans to publish the magazine on the internet in the future.
"We're going digital and will need loads of local reporters to make the news as well as sell it," he said.
"We've been working on the streets since we started the magazine 20 years ago, but what we've struggled with, is getting people off the streets.
"It's not good for people to work there for a prolonged period," Mr Bird said.
The organisation plans to open a number of offices across the country, where its new "reporters" can learn how to produce and write news articles for the publication.
"We're training up The Big Issue vendors - those who want to - to help us build apps and content," Mr Bird said.
'Roving reporter'
Dave, a Big Issue seller in Cambridge, is originally from East London, but has been living on the streets of the city for 16 years.
Excited by the prospect of receiving an iPhone, he said: "It's going to be alright for us. If we get any trouble we can just phone right through to the office.
"And the news thing's a good idea, like if an accident happens or if we get hassle.
"I'll certainly go round as a roving reporter if we get them."
Mr Bird added that it was "time we gave the poorest in society the chance to join the middle classes, so I want them up there with the reporters".
"I want them having all the opportunities that others who have had a better steer in life, have."
Mr Bird said the smartphones would be basic models and would only be issued "as a work tool which they'll have to look after".
"I'm sure some of them will get nicked," he said. "But if it can get them to move away from street life by giving them an alternative, well, we've got to make the jump some time."