More apprenticeships needed for Cambridge students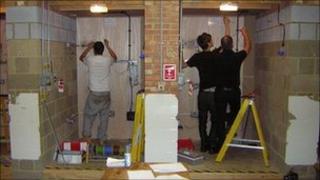 Only 15% of students on building trade courses at a Cambridge college have managed to find employers willing to take them on as apprentices.
Martin Johnson, a tutor at Cambridge Regional College, said the recession had not helped, but also cited a "fear factor" among potential employers.
"They worry about what they will get from a young person," he said.
"Employers want skills and experience, but young people will only get experience by being taken on."
The college's construction department has 400 full-time students on its vocational courses.
'Highly-skilled students'
Jack Bassett, an 18-year-old studying electrical installation, has been unable to secure an apprenticeship. Without one, he said he would not be able to complete the final year of his course.
He said he felt as though he had wasted two years studying, and would have preferred to have gone straight into a job in a supermarket when he left school at 16.
"The construction industry in Cambridge has been on a downer for the last two years," Mr Johnson said. "That hasn't helped anyone."
"We need to make employers more aware that there are some highly-skilled students at the college looking for apprenticeships. If they came here, maybe they would take the chance," he said.
Liberal Democrat MP for Cambridge, Julian Huppert, recently visited the college to look at its apprenticeship schemes.
"Across the whole country, and particularly with companies that haven't taken apprentices before, the problem is not so much the financial costs, but the fear that there will be a huge amount of paperwork and bureaucracy," he said.
"What we need to do is make it very clear how easy it is.
"At both a national and local level we need to encourage more people to take up apprenticeships and also the companies to take them on afterwards," he said.