Fitzwilliam Museum joins Your Paintings project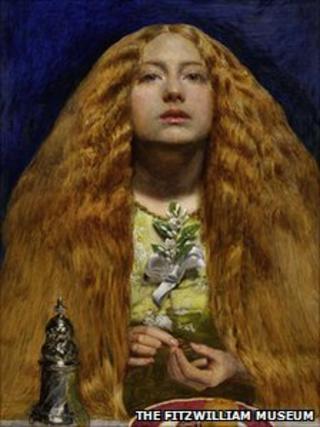 The Bridesmaid by Millais is one of the Fitzwilliam Museum's most famous paintings and is on permanent display.
It is just one of 200,000 oil paintings owned by a public institution in the UK, yet, unlike The Bridesmaid, 80% of them are hidden away and never seen.
So the BBC and The Public Catalogue Foundation are launching Your Paintings, to make them accessible to all on a dedicated website.
This includes 1,674 pictures from the Cambridge-based museum.
Hidden away
The Fitzwilliam Museum is home to a large collection of fine art, much of which is well-known throughout the world.
Examples include Titian's Rape of Lucretia and Ford Maddox Brown's Last of England, which was in the top 10 in a BBC Radio 4 poll of Britain's favourite paintings in 2005.
The museum displays around one third of its oil painting collection, and regularly uses the rest for special exhibitions, or loans it out.
However, the majority of the national oil painting collection is hidden away, in storage or on the walls of schools, hospitals, council buildings and even fire stations.
This means the public has limited or no access to these hidden treasures.
The Public Catalogue Foundation is addressing this in collaboration with the BBC, by putting all 200,000 oil paintings from 3,000 collections online.
The Your Paintings website launches on 23 June.
You can discover the story behind each picture, and find out where it is kept.
Whether you are an art expert, an art lover or just plain curious, you will finally have the chance to see all of this incredible art owned by the nation in one place.
BBC Look East presents a special documentary, Hidden Pictures, presented by Meera Syal on Sunday 26 June at 2235 GMT on BBC One. This tells the story of the oil painting collection of a maharaja of India, which is based in the region.