Cambridgeshire guided bus breakdown and recovery trials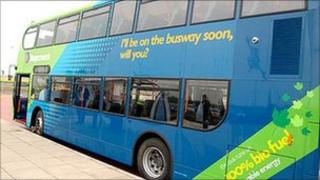 Trials have taken place to test procedures for recovering Cambridgeshire's guided buses when they break down.
The county council has contracted a vehicle recovery firm and said tests showed they could be removed in five to 10 minutes.
Councillor Ian Bates said other buses "will simply divert around a section if there is a problem".
The Cambridgeshire guided busway is expected to open on 7 August.
Mr Bates added: "It is important for the busway to offer a reliable, fast and frequent service and these recovery trials help make sure that is the case under all circumstances."
He said he did not expect the buses to need to be towed often, but the recovery process would be "quick and easy", and diverting other buses around a broken-down vehicle would cause "minimal delay" to passengers.
Cambridgeshire County Council has released a video on You Tube demonstrating how a broken-down guided bus will be removed from the track.