Isaac's Aircraft win international music award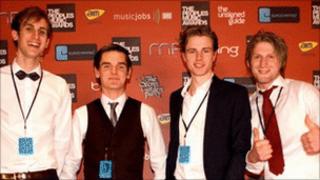 A Cambridge band is celebrating after winning a People's Music Award.
Isaac's Aircraft - a regular on Kerry Devine's BBC Introducing programme - beat 200 entrants to win in the indie/rock category.
Fans vote in the first and final stage of the awards, which showcase new and unsigned acts.
"Without your support we wouldn't have won this award. We are absolutely delighted," Zac Thomas, the band's vocalist, told their fans.
Sixth form ambition
Isaac's Aircraft consist of Zak Thomas on vocals and rhythm guitar, classically-trained Martin Seidel on keyboard, Ant Henderson on drums, and lead guitarist Calum Fall.
The band was formed in 2006 when Zak, Martin and James Lane met at Impington Village College International Sixth Form in Cambridgeshire.
Calum joined shortly after and the band soon had a keen following among their contemporaries.
James left in 2010 and that is when Ant came on board.
Isaac's Aircraft have supported acts across the UK and Europe, including The Zutons, The Wake and Amy Winehouse.
They are also regulars on the London Camden music scene.
So far they have released one EP and two singles and their first album, Two is a Crowd, will be released on 4 July.
Isaac's Aircraft have been championed by Kerry Devine's BBC Introducing programme on BBC Radio Cambridgeshire.
To hear more up and coming Cambridgeshire acts, tune in to Kerry's show on Friday evenings 1900 to 2000 BST.