Community sports pavilion to be built in Swavesey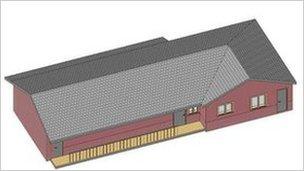 Residents of a Cambridgeshire village have raised almost £180,000 to build a sports pavilion and community hall.
Recycled materials will be used to construct the building in Swavesey, which will offer changing facilities and a meeting room.
Gary Peet, chairman of the fundraising committee, said people had been "talking about replacing the old dilapidated shack for 20 years".
He added: "Finally work is starting and should be complete in October."
Mr Peet said the whole community had come together and funds had been secured from businesses, individuals and district and parish councils to enable work to begin.
A significant percentage of the total was donated by the Football Foundation, the UK's largest sports charity.
Since it was launched in 2000, the foundation has awarded about 8,000 grants worth more than £420m towards improving grassroots sport.
Mr Peet said that although the new pavilion would benefit local sports groups and football teams, the facilities, complete with a kitchen, would be used by many other organisations including the mother and toddler group.
"The result will be a totally eco-friendly amenity for the village which will be used on an almost daily basis throughout the year," he said.
Related Internet Links
The BBC is not responsible for the content of external sites.