First of 1,200 Trumpington Meadows homes get go-ahead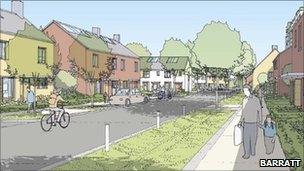 Detailed planning permission has been given for the first 353 houses on a development of 1,200 homes to the south of Cambridge.
About 40% of phase one of the Tumpington Meadows development will be affordable housing.
Barratt Eastern Counties is expected to begin work on the site, which straddles the border between Cambridge and South Cambridgeshire, later this year.
It is the first of three phases of the development.
It will include a primary school and a country park and will partly be built on land once occupied by the Crop Research Institute.
Councillor David Bard, chair of the joint development control committee, said: "It is really important to us that the new neighbourhoods have their own local character, good local facilities and easy access to jobs and services.
"The new homes will help to meet the high local demand for housing."
Mr Bard said the new Addenbrooke's access road and the new guided busway have already improved transportation links to the city.
The Trumpington Meadows development is part of a total of 4,000 homes planned for the south of Cambridge, which include schemes at Glebe Farm and Clay Farm.
Related Internet Links
The BBC is not responsible for the content of external sites.