Memorial garden for National Trust's Octavia Hill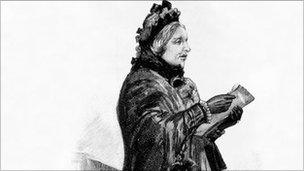 A "green space" is being created to commemorate Wisbech-born Octavia Hill, a Victorian social reformer and co-founder of the National Trust.
The Octavia Hill Centenary Green is planned for a plot of land on South Brink in the Cambridgeshire town.
The project will be funded jointly by the National Trust and the Octavia Hill Birthplace Museum Trust.
It is hoped that Centenary Green will open in 2012, marking 100 years since the death of Octavia Hill.
The National Trust was founded in 1895 by Sir Robert Hunter, Canon Hardwicke Rawnsley and Octavia Hill.
Concerned about the impact of uncontrolled development and industrialisation, they set up the trust to acquire and protect what they considered to be threatened coastline, countryside and buildings.
Peter Clayton, chairman of the Octavia Hill Birthplace Museum Trust, said the creation of Centenary Green in the town was "a fantastic opportunity to reinforce Octavia Hill's vision that everyone should have access to outdoor space for recreation."
Teresa Squires, from the National Trust, added: "As the larger organisation, we will - subject to our standard acquisition procedures and approvals - help buy the land and long-lease it back to the museum trust.
"The museum trust, which will transform the land into Centenary Green and manage it, is leading on raising the remaining funds."
Related Internet Links
The BBC is not responsible for the content of external sites.