New plans for Northstowe in Cambridgeshire spark 'heated debate'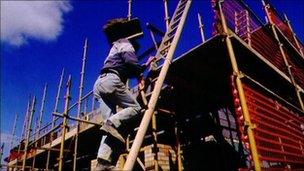 A scheme for a new town on a former immigration reception centre north of Cambridge has been resurrected.
A parish forum met on Thursday to discuss plans to build up to 10,000 homes and two secondary schools on the site at Oakington near Longstanton.
The revised plans for Northstowe include relocating the proposed town centre closer to the guided busway.
The scheme drawn up in 2007 was dropped when the housing market slumped and funding to improve the A14 was cut.
South Cambridgeshire district councillor Alex Riley said local people are upset about the new scheme because the first of six phases to build 10,000 homes would be on just one and a quarter square miles close to the village and on its golf course.
"It is hard to expect any local person not to be apprehensive about a scheme that could promise many benefits but also poses a disaster."
Northstowe was heralded by the last Labour administration as an exemplary eco-town but when plans were published it was seen as not green enough to warrant this title.
It was closely linked to the completion of a guided busway so that residents had an efficient and green link into Cambridge.
Its future depended on improvements to the A14 which became clogged at peak periods and had seen an accident rate much higher than the national average.
Tim Wotherspoon, who heads the parish forum discussing the Northstowe project, welcomed its arrival back on the agenda.
"Each of 10 local parishes were entitled to send two representatives to the forum and the general feeling was that the new plans were an improvement on the 2007 scheme.
"These will be put out for consultation in September but it is worth remembering that the whole development will take a generation to complete and 10,000 homes is a nominal figure as there is only planning permission at present for 9,500."
Leader of the Lib Dems on South Cambridgeshire District Council Sebastian Kindersley said it was madness to consider building without first solving the problem of the A14 congestion.
"Northstowe and the A14 improvement are two projects that are inextricably linked and to talk about beginning to build homes but not solving the road problem sounds like madness to me."
Related Internet Links
The BBC is not responsible for the content of external sites.