Army fantasist John Livesey found guilty of lying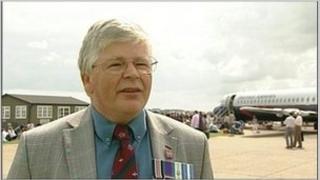 A man who faked an illustrious Army career has been found guilty of perverting the course of justice.
John Livesey, 57, of Purley-on-Thames, Berkshire, was convicted in 2004 for claiming £30,000 in benefits while he worked at a museum in Cambridgeshire.
He received a suspended jail term after the court heard he had served in the Parachute Regiment.
But in a second trial, Peterborough Crown Court heard Livesey had lied and he had been in the Catering Corps.
Livesey, known as Jack, told friends and colleagues he had served with distinction in the Parachute Regiment and that he had been awarded a medal for gallantry.
The military historian, who worked at the Imperial War Museum in Duxford, Cambridgeshire, gained the admiration of war veterans.
He claimed he had seen action in the Falklands War and carried out six tours of Northern Ireland.
However his army career had been in the Catering Corps between 1971 and 1974.
The truth began to unfold when he was found guilty of the benefit fraud in 2004.
'Early discharge'
Investigations following his trial and conviction found references submitted to the court by senior military veterans were based on false claims made by Livesey.
Among those who provided references was Major Gordon Corrigan, who served in the Royal Gurkha Rifles and was made an MBE in 1995.
Giving evidence at the subsequent trial at Peterborough Crown Court, he said he "felt a fool" that he had misled the court but that it "was not deliberate".
Livesey admitted making up his career, but denied perverting the course of justice.
He said he did not remember army references, containing false information, being used in mitigation.
Livesey said he had constructed a "fantasy world" to compensate for his early discharge from the Army on medical grounds.
His partner, Bridget Pollard, gave evidence saying she had compiled the references and, at the time, was taken in by Livesey's claims.
The jury found Livesey guilty of perverting the course of justice after three hours of deliberation.
Adjourning sentencing until August 26, Judge Nic Madge said that misleading the courts was a serious offence.
Livesey has been released on bail.