BBC Reel History events in Cambridgeshire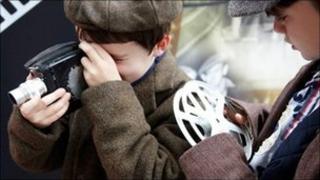 To accompany Melvyn Bragg's BBC Two series, Reel History of Britain, the BBC is hosting a roadshow in Peterborough's Cathedral Square.
On 23 and 24 September, from 10:00 BST to 17:00 BST this free, family event will be packed with fascinating archive film and entertainment for all ages.
Join BBC Radio Cambridgeshire's Jane Smith, broadcasting live from the roadshow on the Friday from midday.
Old film, old fashion and good old-fashioned fun - and it's all free!
Melvyn Bragg's 20-part series explores the social history of 20th Century Britain through film, newsreel, tourist information advertisements and government propaganda films.
Memory bank
The BBC is only holding four Reel History Roadshows, so don't miss out on your chance to take part.
The Peterborough event has been organised by BBC Learning's Hands on History team, the city council, University Centre Peterborough, Vivacity and City College Peterborough.
Find out what life was like in the city years ago, or if you can remember that far back, come along and share your memories with the team.
There are some great Heritage Lottery-funded local history projects happening in the city, and your contributions to those would be warmly welcomed.
With films to watch, vintage fashions to try on and even your chance to star in an "old movie", there's more than enough to keep you entertained.