CB1 station development 'no good' for Cambridge cyclists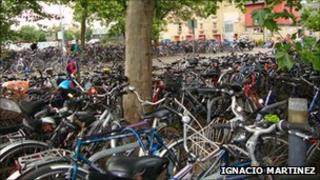 Plans for an £850m redevelopment of an area close to Cambridge railway station have been criticised by cyclists.
Cambridge Cycling Campaign claims the latest residential phase in the CB1 development, named after the postcode area, is "inaccessible to cyclists".
Cambridge City Council said the scheme took the group's concerns into account.
A development company spokesperson said more than two spaces per home had been provided and four access points were available for underground parking.
The new development will include 169 apartments, some of which will be built in a converted flour mill.
'Manifestly inconvenient'
Representatives of the cycling campaign group said parking was insufficient for the number of potential bicycle owners.
They added that difficulty in accessing the underground parking via a "small lift" or steep ramps with barriers would discourage people from using the allocated spaces and could potentially add to cycle congestion at the railway station.
Campaign co-ordinator, Martin Lucas-Smith, described the parking as "manifestly inconvenient".
"It's no good for the city council to go on about Cambridge being a cycle-friendly local authority if it can't even get basics like this right," he said.
Rob Hall, development director of Hill Residential, the company responsible for delivering the latest phase, said the design included 343 cycle spaces and 50 visitor spaces including a number of internal, ground floor cycle stores.
"There are also four separate access points for cyclists to enter additional cycle parking located on the underground level, which includes a dedicated cycle lift," he said.