Alconbury development could include 5,000 new homes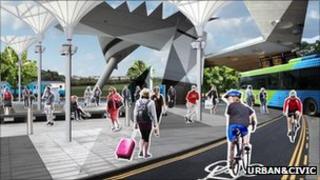 Up to 5,000 new homes could be built on a former airfield in Cambridgeshire.
Urban&Civic, which bought the site at Alconbury in 2009, also plans to create businesses and parkland.
The 1,400-acre (570 hectares) site is one of 13 new "enterprise zones" announced by the government in August and could bring up to 8,000 jobs to the area.
A public consultation is to be held to gauge reaction to the proposals.
The developers promise a "huge investment in public transport, cycle paths, green energy and community facilities" for the location, which they are calling the Alconbury Future Vision Project.
'Vibrant growth'
Urban&Civic managing director Robin Butler said: "We have been doing a huge amount of analysis of the site and local area.
"This has helped us develop our current plans for a development which will bring jobs, homes and, crucially, ensure significant green and open space throughout the development so it fits with local communities and the landscape around the site."
Jason Ablewhite, executive leader of Huntingdonshire District Council, said: "This is the biggest development site we have in the district.
"It should deliver real employment opportunities and be a key part in the continued growth of Huntingdon as a vibrant market town."
Following the public consultation, Urban&Civic hopes to take its outline plans for the site to the council in spring 2012.
The site was established as a military airfield in 1938 and was used by both the RAF and the USAAF. Flying ceased at the airfield in 1995.