Man charged with raping woman on Cambridge Parker's Piece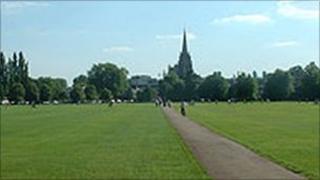 A 29-year-old man of no fixed address is due in court charged with the rape of a woman in Cambridge on 11 October.
The man was arrested early on Sunday morning in connection with an attack on a woman in her 30s at about 05:45 BST on Parker's Piece.
Police charged him with rape on Sunday night.
He is currently in custody at Parkside Police Station and will appear at Cambridge Magistrates' Court later, a police spokesman said.