Work to decontaminate Hauxton site completed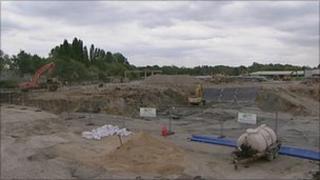 Harrow Estates, the company responsible for decontamination work at the Bayer CropScience site in Hauxton, has said the work is finished.
Monitoring will continue for six months before permission can be granted for nearly 400 houses to be built there.
Residents of the south Cambridgeshire village complained of a strong chemical smell during the decontamination work.
Jenny Daly, managing director of Harrow Estates, said "tried and tested remediation techniques" were used.
Stuart Rust, who works near the former chemical works, described the smell at its worst last year: "You went home at night, you were crying, your eyes were watering, your throat was sore, your nose was sore.
"We never had it before they started on the site, only when they started digging the site out."
Concerned residents set up a campaign group called Hauxair.
'Technical expertise'
South Cambridgeshire District Council said the stench came from the chemical-saturated soil when it was disturbed.
The Environment Agency said doctors, engineers and scientists investigated the effects on health and found no concerns.
Ms Daly said: "The level of technical expertise that has been brought to bear on this site is something we can all be proud of.
"The authorities have put a monumental effort into ensuring [the residents'] well-being and safety and health."
About 3,500 tests were done and the results can be seen on the district council's website.
In total 200,000 tonnes of soil material was treated on site.
Now the decontamination work has been completed, Harrow Estates will tidy up the site and put in boreholes.
The water that goes through them will be monitored regularly over the next six months and the results independently analysed.
Sue Ellington, cabinet member for environmental services at South Cambridgeshire District Council, said: "That report will then go to the council's planning department, and the planning permission for the houses will only be given if there is a clear bill of health."