Strike action hits services across Cambridgeshire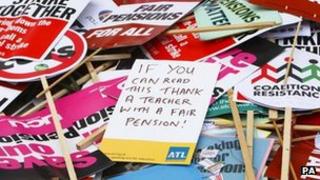 Public sector workers in Cambridgeshire are planning to join national strike action on Wednesday to protest at changes to their pensions.
More than 130 schools in Cambridgeshire and 48 schools in the Peterborough area are due to close.
Thousands of people are expected at rallies in Cambridge and Peterborough.
The prime minister's official spokesman said: "The strike action will achieve nothing. It would be far better to continue with the talks."
Nurses, bin collection staff, police community support officers (PCSOs), teachers and council workers across Cambridgeshire are expected to join the protest.
Geoff Fewtrell, Cambridgeshire representative for the NASUWT teachers' union, said he was striking because his pension contributions had not been invested for his future.
"We have paid substantial billions of pounds into our pension pots and it's been used as an indirect tax," he said.
"It's a tax that's been used for everything - to build motorways, to support the armed forces - and it should have been used for our pensions.
"We're now asking for it back and to be used for pensions."
Emergency workers
Unison hopes that more than 10,000 members of various unions will meet at Shire Hall in Cambridge, and at Addenbrooke's Hospital at 11:00 GMT.
They will make their way to Parker's Piece for a mass joint rally at midday, followed by a march through the city and an assembly in the afternoon.
In Peterborough, protesters will march from Pleasure Fair Meadow Car Park from 11:00 GMT for an open air public meeting in Laxton Square at midday.
At least 1,800 Unison members in the East of England Ambulance Trust will be on strike but have agreed to respond to 999 calls throughout the 24-hour period.
Ann Glover, Unison's eastern region head of local government, said: "Unison will do what it can to protect vital services to the most vulnerable people on the day of action."
She called on the public to support the regional marches and rallies.