'Sudden drop' branch killed girl in Peterborough park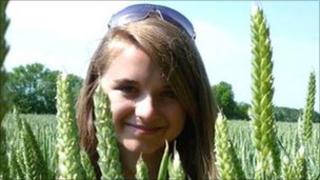 A 13-year-old schoolgirl died instantly in a Peterborough park when a tree branch suddenly and unpredictably fell on her, an inquest has heard.
A tree expert said branches could "literally explode" because of a condition called summer branch drop.
Sophie Howard was with friends at a recreation ground in Yaxley on 30 June while teachers at Sawtry Community College were on strike.
Her parents did not believe the strike contributed to her death.
In a narrative verdict Coroner David Morris said Sophie died of serious head injuries.
A GP, who was nearby when the branch fell in Middleton Road Recreation Ground at about 14:20 BST, tried in vain to save her life.
Tree consultant Robert Widd told at inquest at Huntingdon Law Courts an inspection revealed signs of fractures associated with summer branch drop.
'Identify signs'
"This occurs in mature broadleaf trees when a sudden downpour follows a long dry period and water being sucked through the tree causes the brittle branches to literally explode.
"It generally happens between the hours of 1400 and 1600 BST.
"It is not possible to predict which particular branch might fall, but a specialist would be able to identify the signs," he said.
David Youles, chairman of Yaxley Parish Council, said that since the accident all staff had been given training and checks had been stepped up.
The tree has been removed and others cut back.
Coroner Morris said: "She died from injuries sustained when she was unexpectedly struck by a falling branch.
"Prior to this tragedy the propensity of this tree to the phenomenon of sudden branch drop had not been recognised."
Sophie's parents Martin and Laura Howard said they would reflect on the verdict before considering any further action.
The Health and Safety Executive is investigating.