Cambridgeshire straw fires 'could burn for five days'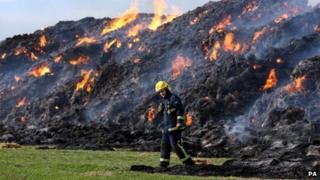 Straw fires at two sites in Cambridgeshire could continue burning for "four or five days", the fire service has said.
Firefighters spent a second night controlling the blazes at Mepal and Witcham Toll, which started on Tuesday.
Watch commander Mark Edgley said the fires had reduced by "about a quarter" but their priority was to prevent them spreading to other stacks.
The 66,000-tonne straw fires are being treated as arson.
Mr Edgley said a change in wind direction "could still be disastrous if we don't contain this", but the fires posed "no threat to residents".
They started at about midnight on Tuesday and at their height roughly 100,000 bales, or about 50,000 tonnes, were ablaze in the Witcham Toll area.
A further 32,000 bales, or about 16,000 tonnes, were on fire near Mepal.
Mr Edgley said: "Crews have been in attendance at both sites at all times and it's burning down nicely now.
"There's still a large area alight, but it's nowhere near as bad as it was."
Cambridgeshire Police and Cambridgeshire Fire Service are carrying out a joint investigation.
PC Robin Smith said: "I would urge anyone with any information about these fires to contact police.
"Stack fires can take up a huge amount of the fire service's time and cost the victim thousands of pounds, as well as pushing up the cost of straw."
He said extra patrols would be on duty in the area.