Tortoise hatches 'record' 45 babies at Linton Zoo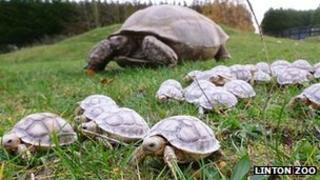 A Cambridgeshire zoo has been "overwhelmed" by a "bumper brood" of 45 tortoise hatchlings.
Linton Zoo has run an African spurred tortoise breeding programme for 15 years, and director Kim Simmons said this was its most successful herd.
The eggs were incubated as the UK is too cold for them to hatch. It also protected them from their parents who "have no maternal instincts".
Some tortoises will be taken to other breeding programmes in Europe.
The eggs were laid in March by Kali, a 65kg (140lb) African spurred (or sulcata) giant tortoise.
Sulcatas are the largest mainland species of tortoise and are native to Central Africa.
They are currently ranked as "vulnerable" by the IUCN Red List of threatened species.
'Crunchy meat pie'
Mrs Simmons said: "It's partly our own fault we have so many hatchlings here, because our programme is now so successful."
She added the tortoises, which hatched in September, were now being "mollycoddled in a warm environment indoors".
"That will ensure they get the best start in life," she added.
Mrs Simmons said the 50g (2oz) hatchlings needed to be kept apart from the adults for their own safety.
"We put them into the pen just so we could take photographs, but we monitored them very carefully," she said.
"The adults have no regard for the youngsters at all. They will just tread on them and crush them as they hare around all over the place.
"We also have to protect them from squirrels that might think they're a nice crunchy meat pie."
'Inbred tortoises'
When the tortoise hatchlings are 12 months old some of them will be shared with other breeding programmes.
"Fortunately for the future of the animals, other places in Europe have now mastered successful captive programmes," Mrs Simmons said.
"However, we now need to ensure that wherever they go, we're varying the genetics.
"You need to make sure you're not breeding brothers and sisters. You can't do that without messing up the genetics and ending up with inbred tortoises."