Fulbourn Hospital safety criticised after CQC inspection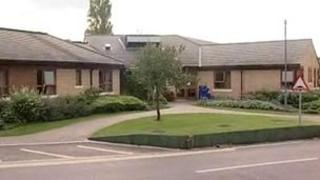 A formal warning has been issued to an NHS trust in Cambridgeshire to improve standards of care at a mental health facility.
Independent regulator the Care Quality Commission (CQC) inspected Fulbourn Hospital, near Cambridge, in November.
Concerns included safety at the premises and care of patients.
Cambridgeshire and Peterborough NHS Foundation Trust chief executive Dr Attila Vegh said the report was "fair" and addressing issues was a priority.
CQC inspectors visited the hospital to check on progress following a warning issued to the trust in February.
CQC compliance manager Barbara Skinner said: "While there were some issues the trust had clearly addressed and taken action on, it was evident there were some areas of concern."
These include:
Points that could be used to attach a ligature
A number of fire doors left propped open
Wheelchairs stored in a corridor without brakes on, causing a potential safety hazard
An outside fence low enough for people to climb over and potentially abscond
Care plans and risk assessments not always reflecting people's needs
No evidence that patients had participated in their own care plans
"We are confident the provider will address these issues. They agree this is not acceptable," Ms Skinner said.
"We have given them a timeframe in which to comply and we will compile a follow-up report."
Dr Vegh, who was appointed chief executive shortly before the inspection, said: "A significant amount of progress has been made over the past 12 months, but it's a fair assessment that in some areas - care planning and the environment - more could have been done.
"We have a major implementation programme in place and these changes will be made in the shortest time possible."