Silverware stolen from Corpus Christi College chapel in Cambridge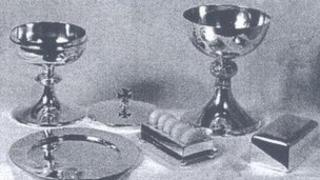 Thieves have stolen "very distinctive" silverware from a Cambridge college.
The Everyday Chalice and Paten, Ciborium and Sunday (Knight) Chalice and Paten were taken from the chapel at Corpus Christi College on Monday.
Police said the theft happened between 16:30 and 20:30 GMT when the chapel was open to the public.
The college described the silverware as "irreplaceable". A spokesman said the items were difficult to value because of their age.
They were stored in a wooden chest in the chapel.
Police have appealed to anyone with information to contact the force.