RAF Brampton Wyton gets new commander to oversee change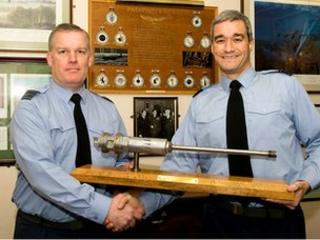 A major RAF intelligence base in Cambridgeshire, due to partly close in planned MoD cuts, has a new commander.
RAF Brampton Wyton is made up of three sites and is the largest RAF base in the UK in terms of personnel.
The Brampton site will close in 2013 but RAF Wyton, home of RAF security and police units, has a new future.
Wing Cdr Mike Brown took control of the joint base on Friday and will oversee changes including the movement of new units to RAF Wyton, he said.
Wing Cdr Brown said: "I am very excited to lead this station through the huge changes that we will face over the coming years."
Brampton was earmarked for closure as part of the MOD estates review in 2009. A majority of units will move to its co-site at Wyton by December 2013.
"We will continue to work closely with the community as the closure of RAF Brampton draws near and arrival of a number of new units to RAF Wyton, which will see many more service families settle in the area," said Wing Cdr Brown.
Joining the RAF in 1986 Wing Cdr Brown completed a degree in electronic systems engineering at the Royal Military College of Science. During his career he has served in a variety of communication engineering roles in the UK and abroad.
RAF Brampton Wyton is home to the Joint Air Reconnaissance Intelligence Centre (JARIC) as well as the Defence Security Standards Organisation.
Outgoing Wing Cdr Robert Cook will take up a new post of interim station commander at RAF Henlow