Stroke patient care moved from Hinchingbrooke Hospital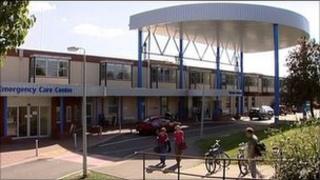 Stroke patients will no longer receive immediate acute care at a Cambridgeshire hospital, following an NHS review of its services.
Hinchingbrooke Hospital, near Huntingdon, will now transfer all suspected stroke cases to Addenbrooke's in Cambridge, or Peterborough.
An NHS spokesman said the decision would ensure patients received access to "the best clinical care possible".
He said the changes were in line with the National Stroke Strategy.
NHS Cambridgeshire said specialist care in the first critical 72 hours following a suspected stroke was "not viable" at Hinchingbrooke.
It said "the two specialist hyperacute stroke units at either end of the county" would offer the best possible care for patients in Huntingdonshire.
'Best solution'
A public consultation on the changes took place in late 2011.
At the time, the proposals were criticised by Geoff Heathcock, former Lib Dem spokesman for health on Cambridgeshire County Council.
He said moving patients to other hospitals would force relatives to travel much further to visit them.
However, a spokesman said the NHS Cambridgeshire board had taken respondents' concerns about distance and transport links into account when reaching its decision.
He said patients could be returned to Hinchingbrooke "when clinically appropriate", meaning they would be away from their families for only a short period.
He also said "the challenges posed by the A14" had been taken into account and emergency ambulance crews dealt with the road on a daily basis.
Dr Christine Macleod, medical director at NHS Cambridgeshire, said: "We believe this solution offers the best of both worlds.
"It gives patients access to the very best specialist care when they need it, while being able to transfer to their local hospital at Hinchingbrooke for the rest of their care and rehabilitation."